What is Toe Nail Wrap?
Toe nail wraps are a type of nail art that is worn on the toes. They are made of vinyl and come in different colors and patterns.
Nail wraps for toenails are temporary or semi-permanent nail enhancements that can be applied by wrapping the toes with a piece of vinyl. They are typically made out of vinyl, although there are some companies that offer acrylic nails for toenails as well. Toenail wraps can be found at many beauty supply stores.
Toenail polish strips provide a way to wear colorful designs on your toes without having to paint them or use polish all the time. They can also provide a protective barrier between your nails and the ground when you're wearing open-toe shoes or sandals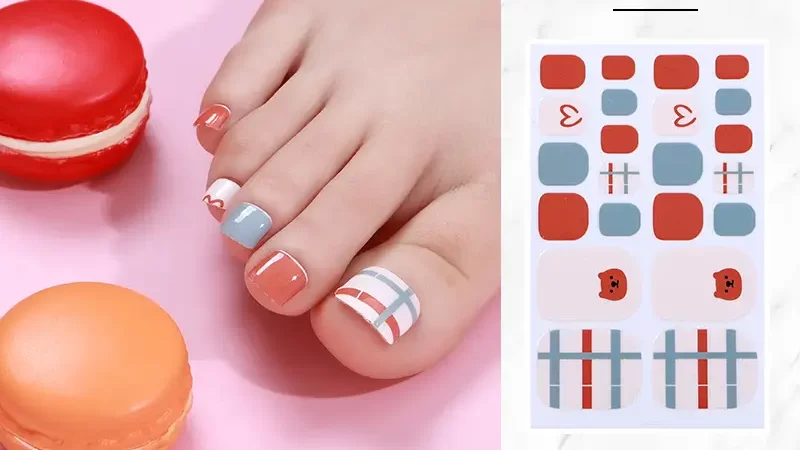 The Benefits Of Toe Nail Wraps
There are a lot of benefits to using nail wraps for toe.
First, they are easy to use. You just apply them to your toes and then paint your nails like you normally would.
Second, they are affordable. They are only $5-$10 and last for up to two weeks.
Third, they protect your nails from the harsh chemicals that regular polish can put on them.
Fourth, it's a great way to try new colors without the commitment of painting your nails every day for a month or more until you find the one that you want!
Different Types of Toe Nail Wraps
Nail wraps are a relatively new product on the market and are designed to offer a simple way to get a beautiful manicure. There are different types available, including sizes, colors and textures.
There are two main types of nail wraps: toe nail wraps and gel nails for feet.
The pedicure nail wraps are designed to fit over your toes and give them a fun look. It's easier to apply. Gel nails for feet can be applied to your feet as well, but they have more of an aesthetic purpose than the foot-specific ones.
How to Apply Toe Nail Wraps?
Many people are getting into the trend of wearing toe nail wraps. They are especially popular among kids who want to have a different look from their peers. It is easy to get the nail wraps on your toes at home. So here are some tips on how you can apply toe nail wraps:
1) Try to make sure that your nails are dry and clean before you apply them.
2) Cut the nail wrap in a shape that is suitable for your toes and then peel off the backing of it.
3) Apply the nail wrap on your toes by sticking it on top of your toe nails, making sure that all parts of it stick properly to each other.
4) Use a small brush or sponge to spread out any air bubbles or wrinkles in the nail wrap by dabbing it on them.
5) Wait for 1-2 minutes as the nail wrap sticks to your nails, and then apply a clear polish on top of the nail wrap.
Why You Should Start Using Toe Nail Wraps Now?
Nail wraps are a new trend in the nail world. These wraps are a quick and easy way to get beautiful nails without having to go to the salon.
The market for nail wraps is growing at an astonishing rate, with new companies popping up every day. There are a lot of options out there to choose from and it can be hard to decide what is best for you.
However, there are a few things that you should keep in mind when choosing your next set of nail wraps.
You should look for a company that has been around for more than three years and has an excellent reputation in the industry.
You also need to make sure that they offer high-quality products at reasonable prices. The last thing you want is to spend too much money on something that will only last a few days.
How To Choose The Best Quality & Affordable Toe Nail Wraps?
Choosing the right quality and affordable toe nail wraps is not an easy task to do. There are different types of nail wraps available in the market. We can compare them by their price, durability and quality.
The first step to choosing the best quality and affordable nail wraps is to identify your budget. You should consider what you are willing to spend on this purchase. You should also take into account how often you will wear these toe nail wraps, what type of design or color you want, etc.
After that, you can start looking for a store that has a wide range of products at different prices. 100% Non-toxic toe nail wraps at an affordable price can be the best option if you want to have safe and easy toe nail art.