What are Luxury Press-on Nails?
Luxury press on nails are a type of nail that is made to look like acrylic nails. They are usually made of thin, flexible ABS plastic and can be applied in a matter of minutes, you can refer press on nails vs acrylic. They are mainly used by women who do not have the time or patience to go to the salon and get their nails done.
The process of applying these nails is fairly simple. The user needs to select the desired nail size and shape and then peel off the protective film from the back of each nail. Once this has been done, they need to press the nail onto their own nail bed and use their fingers or a small brush to seal it in place with a special glue that comes with it.
Luxury Press-on Nails come in many different styles and colors to match any outfit or occasion while providing an elegant look that lasts without chipping. You can customize your luxury press-on nails with different nail sizes, shapes, colors, and lengths.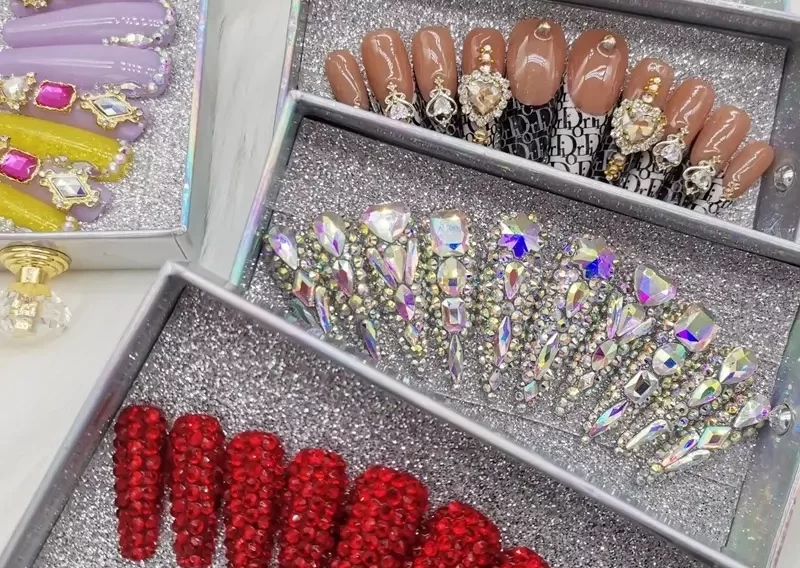 How to make luxury press on nails?
Luxury press on nails are a new and innovative way to get beautiful nails in a matter of minutes. They are made from the high quality material for durability and are easy to apply, making them perfect for those who don't have time to go to the salon.
First, you will need to start with a base coat. This will help your nails dry faster and protect them from the nail polish. It also helps the nail polish adhere better to your nails.
Next, you will want to apply two coats of the color of your choice. It is best if you apply a top coat as well, but this is not necessary if you don't want it.
Finally, you will want to apply a top coat or clear polish on top of that for extra shine and protection from chipping or peeling off too soon.
How long do luxury press on nails last?
You can choose to use nail glue or adhesive tab for press on nails, which both have advantages and disadvantages.
Nail glue is the traditional way of applying press on nails but it can be tricky to apply. It also takes more time to dry and it's not as secure as adhesive tabs. If you're not careful, the glue can get all over the place and make a mess. And it may be hard to remove and cause press on nail damage that can not be reused. Press on nails can last up 2~3 weeks or more if you apply the nail glue correctly.
Adhesive tabs are easier to apply than nail glue because they don't require a lot of time or skill. They also come with detailed instructions that tell you how to use them properly so they're less likely to come off prematurely. It's easier to remove anytime and press on nails can be reused easily. Press on nails will last up to 7 ~ 10 days if you apply the adhesive tab correctly and use the high-quality one.
Do press-ons damage your nails?
Press-on nails do not damage your nails if they are applied properly, it's more easy and safe especially when you use adhesive tabs.
Are custom press on nails worth it?
Custom press on nails are worth it if you want to save time and money. Press-ons are better than acrylics because they're cheaper, quicker, and don't damage your natural nails. And the most important is press on nails can be reused and easily apply and remove compared with acrylic. Quality press on nails can still look amazing and last a long time if applied correctly.
Benefits of Luxury Press-On Nails
Luxury press-on nails are a great way to get a manicure at home without the hassle of going to the salon. They are also perfect for women who want to change their nail polish often but don't want to spend the time and effort of removing, painting, and waiting for their nails to dry.
Benefits of luxury press-on nails:
* No drying time
* Easy remove
* Can be applied in minutes
* Reusable
* Less damage to natural nails
The benefits of luxury press-on nails are numerous. There are many different types of luxury press-on nails available on the market today, you can keep reading to find the best one.
The Best Luxury Press-On Nail Brand in the Market
Nails are an important part of a woman's beauty. They can be used to express personality and style, and they can also be used as a form of self-expression. The best press on nails will not only make your nails look beautiful, but they will also make you feel confident.
Press on nails have been around for a long time, but the technology has improved significantly in the last few years and there are now many options available for people who want to wear them.
The best luxury press on nails are those that are made of high-quality materials and are durable. They usually have a good adhesive that will not peel off easily.
Dreamall is one of China's leading press on nail companies, they provide custom luxury press on nails and bulk press on nails. They have a wide range of designs. They also have a wide range of prices depending on what you want to spend on your nails. They have 100% handmade salon-quality nails and each nail piece has to go through at least seven processes.
SENA NAIL is one of the brands for safe and easy nail art products that provide press-on nail sets with 24 pcs per set. Their nails come with high-quality adhesive tabs and can last up to 7~10 days.